Doctors & Staff
Meet the experienced and friendly doctors and staff who make Hutto Family Eye Care the leading provider of vision care products and services in Hutto.
Sarah C. Johle, O.D.
Dr. Sarah Johle, a therapeutic optometrist and optometric glaucoma specialist, was born and raised in Central Texas. Her parents are both life educators: her father retired a high school coach at Crawford, and her mother retired from teaching high school English at Crawford High School after 41 years, where Dr. Johle graduated as Valedictorian.
Dr. Johle followed in the footsteps of her parents, attending Texas A&M University where she pursued a degree in Nutritional Sciences, changing majors after her younger brother was diagnosed with type 1 diabetes. Dr. Johle went on to receive her Bachelor of Science degree graduating Cum Laude.
In 2004 Dr. Johle moved to Houston so could pursue her post-graduate studies in optometry. While attending the University of Houston College of Optometry, Dr. Johle was very active, serving as an officer in both the American Optometric Student Association and the Fellowship of Christian Optometrists. During her final year of school, Dr. Johle completed externships at two very successful private practices in the Austin area. During these rotations she received extensive training in contact lens fitting, including special cases, pre- and post-operative LASIK management, and the treatment of ocular diseases such as glaucoma, macular degeneration, diabetic retinopathy, dry eye, and ocular allergies. Dr. Johle graduated from UHCO with honors as a member of the Beta Sigma Kappa Optometric Honor Society.
Dr. Johle looks forward to caring for the vision and health needs of the citizens of Hutto and the surrounding communities. Because of her undergraduate training, Dr. Johle has a passion for caring not only for the health of the eyes but also for the overall health of her patients. She truly understands the role the eyes play in the diagnosis of many major health conditions. Dr. Johle is very excited to be back in Central Texas, away from the hustle and bustle of the big city and surrounded by family and friends. She hopes to see you soon at your next appointment.
In addition to her professional activities, she is a member of the American Optometric Association and the Texas Optometric Association, Dr. Johle enjoys watching and participating in sports, especially football, crafting, interior design, traveling, spending time with her family and two sons, Wyatt (10) and Olsen (8).
---
Dr. Goodman
Dr. Goodman was born and raised in rural Northern Wyoming. His father mined coal while his mother worked as a bookkeeper.  He became interested in eye care a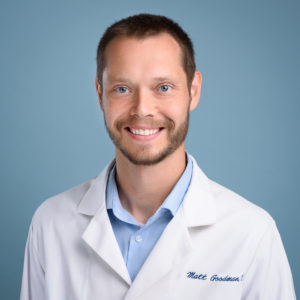 fter seeing the profound positive effect on his grandfather's quality of life after having cataract surgery.
Dr. Goodman attended the University of Wyoming for his undergraduate studies, where he pursued a degree in molecular biology. He then attended Pacific University in Oregon where he completed his optometry studies. While completing his optometric externships, Dr. Goodman had the opportunity to work with some of the leading eye care professionals in the country. Dr. Goodman completed externships at Bascom Palmer Eye Institute in Miami, Florida, a Veterans Administration hospital in Lexington, Kentucky, and a private practice in Reno, Nevada.
Following graduation from Pacific University with high honors, he continued his training at Massachusetts Eye and Ear Infirmary in Boston, Massachusetts. After completing a residency in ocular disease and cornea/contact lenses, he joined the full-time faculty at Massachusetts Eye and Ear Infirmary where he has practiced for the past four years.
Dr. Goodman is excited to have the opportunity to offer quality eye care to the residents of Central Texas. He is a passionate patient advocate and is looking forward to addressing your visual needs.